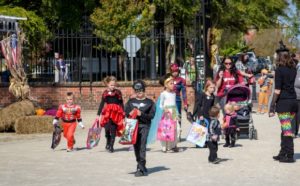 Ghouls, ghosts and witches are taking over Tryon Palace Saturday, Oct. 29 from 10 a.m. to 2 p.m. during All Hallows Eve. Children ages 12 and under are invited to dress in Halloween costumes for free admission and trick-or-treating around Tryon Palace.
Children can get in the Halloween spirit during All Hallows Eve with the friendly ghouls, ghosts and witches around Tryon Palace, games and candy.
Designed for ages 12 and younger, the brave children who attend All Hallows Eve will receive candy and toys by trick-or-treating with the different characters and playing games.
Admission is free for children dressed in Halloween costumes (offer limited to ages 12 and younger), $4 for ages 13-18, $10 for adults and free for Tryon Palace Foundation members.
All passes include admission to the Tryon Palace gardens and the North Carolina History Center, which includes the Regional History Museum and the Duffy Gallery exhibit, "Richard Dobbs Spaight: Legacy of a North Carolina Founding Father."
For more information, call 252-639-3500 or visit TryonPalace.org.
Upcoming events at Tryon Palace include:
November 1: Behind-the-Scenes Tour: Costume Shop
November 8: Behind-the-Scenes Tour: Conservation Lab
November 10: Tryon's Explorers: Days of Harvest
November 11: Veterans Day at Tryon Palace
Submitted by: Craig Ramey, Marketing and Communications, Manager, Tryon Palace