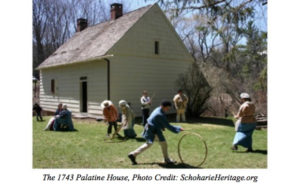 On Tuesday, October 11, 2016, at 6:30 p.m., the Craven County Genealogical Society will begin the evening with a cookie and punch reception where members and guests are welcome to discuss their research and learn more ways to find their ancestors.
At 7 p.m., the Society will host Mrs. Phyllis Empie Lane who will talk about her ancestor, the Rev. Peter Nicholas Summers (1709-1795), of the Schoharie, New York area.  The Rev. Summers was part of the German Palatine immigrants to New York in the mid 1700s and is noted as the first called Lutheran pastor in New York State.  He and his wife Maria Kayser (~1720-?) were the parents of fourteen children who lived in the home that is pictured.  It is now called the 1743 Palatine House and is maintained by the Schoharie Colonial Heritage Association, SchoharieHeritage.org.
Mrs. Lane will talk about the life of her ancestor as well as the interesting information that she found about both her and her husband's ancestry along the way.  Over 13,000 Germans immigrated from the Palatinate region along the Rhine River from the early to mid 1700s to the New York and Pennsylvania areas.  A smaller group of about 650 German Palatines of which only half survived the voyage from England in 1710 founded New Bern along with the Swiss settlers.
Mrs. Lane grew up in the Cobleskill and Lawyersville, Upstate New York areas.  She graduated from the State University of New York at Oneonta with a degree in Art History.  She was active in area schools sharing her knowledge of art history with students, as well as serving the Girl Scouts, and the 4-H Club of New York.  She and her husband moved to Eastern North Carolina in the early 1990s.
The Society's monthly meetings are held at the New Bern LDS Church located at 1207 Forest Drive off Trent Road.  The monthly meetings are free and open to the public and membership is encouraged.
The Society has a vibrant and diverse membership representing not only Craven County and North Carolina, but also many other states as well.  The members are dedicated to fostering interest in the research, preservation, and sharing of family heritages. We welcome you to join us for this month's meeting.
For more information, please visit CravenGenealogy.org or Facebook.com/CravenGenealogy or contact President Nancy Perdue at 252-638-3291.
You are also welcome to visit the New Bern LDS History Center which is free and open to the public on Tuesdays (1 p.m. to 4 p.m. and 6 p.m. to 9 p.m.), Wednesdays (6 p.m. to 9 p.m.), and Thursdays (1 p.m. to 4 p.m.).  It is staffed by researchers who are happy to assist you in learning how to find your ancestors.  The History Center provides free on-site access to some of the most popular online genealogy research databases.
Submitted by: David French, Family History Society of Eastern North Carolina