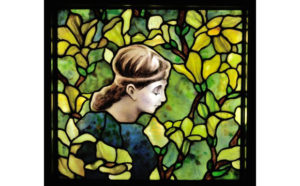 Created by the Museum of the Albemarle, the exhibit "Louis C. Tiffany: Art and Innovation," explores the life and work of the acclaimed glass artist, and will be on loan to Tryon Palace and on display free to the public at the North Carolina History Center Jan. 21 through March 26.
The name Tiffany is recognizable to many but few may know that Louis Comfort Tiffany, famed for his innovations in glass, was the son of Charles Tiffany, founder of the internationally acclaimed Tiffany and Company.
Featuring pieces on loan from private collectors and several institutions, the exhibit tells the story of the companies created by father and son as well as putting Tiffany's stained glass in the context of the broader Art Nouveau style.
The centerpiece of the exhibit is a collection of 23 objects on loan from Georgia collector Tom Wester. Three stained glass windows join a collection of lamps, vases and pottery. On display will be rare items such as a circa 1910 lamp with an oriental poppy shade and a Cypriot glass base, a number of Favrile glass works including lamp sprays from Whalehead in Historic Corolla and an urn shaped vase that was displayed at the 1909 Alaska-Yukon-Pacific in Seattle, Washington where Tiffany won a gold medal for his work.
Visitors can view beautiful works by Louis Comfort Tiffany and appreciate superior quality workmanship while discovering the significance of the Art Nouveau movement.
In addition to the exhibit, Tryon Palace plans to announce upcoming programs focused on stained glass in the near future.
For more information call 252-639-3500 or visit TryonPalace.org.
Upcoming events at Tryon Palace include:
January 24: Behind the Scenes Tour: Costume Shop
January 27: WinterFeast: Oysters, Brews, and Comfort Foods
February 4: Tryon Palace Free Day
February 7: Behind the Scenes Tour: Costume Shop
Submitted by: Craig Ramey, Director of Public Affairs, Tryon Palace