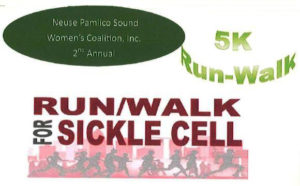 The Neuse-Pamlico Sound Women's Coalition, Inc. (NPSWC), a 501(c)3 organization of professional women, is proud to announce our 2nd Annual Sickle Cell Anemia 5 K Walk/Run on Saturday, March 11, 2017. Registration 7:00am – 7:45am and race starts at 8:00am at Union Point Park. We are passionate about this walk as it assists in fulfilling our mission "to enhance the quality of life within our communities."
We are seeking your support in the form of a sponsorship. This year, we are partnering with the Neuse River Bridge Run to organize "a race within a race." That, in part is the reason for our short turn-around time regarding this sponsorship request. Hurricane Matthew brought our two groups together. We had to spend additional time working out the logistics, but we are extremely excited about this opportunity and this partnership. Our collaborative efforts will assist in celebrating those who are living with Sickle Cell Disease (SCD). Your sponsorship will help with treatment, transportation or the expense of other daily challenges.
"Why Sickle Cell?" Simple, SCD is a devastating blood disease affecting millions worldwide. Greater than 300,000 are here in America, with 1,800-2000 infants born in the United States with SCD each year.
SCD has only one FDA approved medication for treatment and a shortage of specialists to treat the condition. This often overlooked disease affects not just the African-American community at an alarming rate, but those of Indian, Middle Eastern, Hispanic and Mediterranean heritage. Funding for research and treatment is slowly being eliminated. This is why we will use the money in our local communities. Last year we were able to give over $7,000 to the Sickle Cell Organization for our area. This year, with your help, we also plan to establish a scholarship fund to assist those potential college students who are living with this disease.
Your involvement will help highlight the importance of a community working together to make a positive difference in the lives of others. You may choose to become a corporate sponsor or you may give a liberal donation of your choice. A flyer is enclosed describing the sponsorship levels. We would love to promote you or your business as being supportive of this effort.
If you have questions, please feel free to contact Judy Pierce, president, at 252-259-0162. Thanking you in advance for your generous donation. To learn more about our organization go to: NPSWC.com. To learn more about our race, please access the Bridge Run site at: BridgeRun.org.
Written by: Judy Pierce, President, Neuse Pamlico-Sound Women's Coalition, Inc.
Submitted by: Sarah D. Stevenson, Publicity Chairperson, NPSWC, Inc.