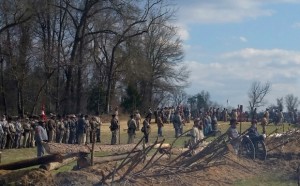 Hosted by SCV Rains Brothers Camp 1370. Co Hosted by 7th NCT Co. F, 5th NCT Co. D, Northampton Artillery, Reilly's Battery Co. D.
The 2017 Reenactment will be held on what is known as the Kinsey Farm @at 7860 NC Highway 55 W, Dover, NC 28526-9068.
The 2017 Reenactment is on it's 2nd and final year marking the 155th Anniversary of Battle Of New Berne. This will be one of the largest if not the largest Civil War Reenactment to be held in Eastern NC. Wit…h over 1500 reenactors. Battles both days Saturday March 11th will be the 155th Anniversary Battle of New Berne, Sunday March 12th will be the Battle Of Batchelders Creek.
Infantry, Militia Demonstration, 15 Artillery pieces, Mortar Demonstration, Cavalry, Both Union and Confederate Camps, Civilian Camps, Period Sutlers, Nighttime Hospital Scene behind Confederate lines. See what it was like of the effects of Horrors and Aftermath Of War. Guest Speakers both days.
Our Website is BattlesforNewBerne.com
Please follow our FB page at Facebook.com/BattlesforNewBerne2017/
New This Year: Horrors And Aftermath Of War Nighttime Hospital Tour. Experience a behind the lines triage hospital area. Witness amputations as it was done during the war. Witness the wounded laying everywhere. Enter Confederate pickets as you enter. Be in the center of fighting, artillery barrages. This event is a candlelight tour held Sat night March 11th forming a line in front of the dance and speaker tent at 6:00pm. You will be lead into the area by groups. There will be a little bit of a walk to this but very well worth it! Warning! May not be suitable for young kids and subject at parents discretion!
Tickets for this is $3 and will be sold at gate or online Under Saturday's Ticket on the online link above.
Submitted by: Scott Felts