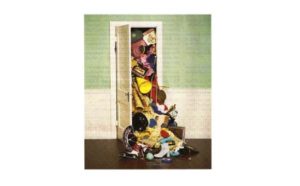 Scale Down the Honey-do List, Make Room for Car in Garage
Each year, for 27 years in a row, the New Bern Historical Society holds its ABC, that is Attic, Basement Closet, indoor yard sale. They are deep in preparations and collecting, and that brings opportunities. If you have been putting off the clean up until after the holidays. If you have a garage that has turned into a storage unit. If you are downsizing and don't know what to do with the stuff, here is the answer. The Historical Society will continue to collect up until the March 4th sale. You can bring your collection to the New Bern Historical Society at 511 Broad Street. If you have furniture or large items, call the office at 252-638-8558 and they will arrange a pick-up for you. Call for information.
Your donations will support the ongoing efforts of the New Bern Historical Society which includes maintenance and tours of New Bern Battlefield Park and the historic Attmore Oliver House. The Society is a 501 (c) (3) non-profit organization so your donations are tax deductible.
The ABC Sale will be held Saturday, March 4th from 7:30 to 12:30 at the Knights of Columbus Building, 1125 Pinetree Drive, New Bern. There is no charge for admission.  Executive Director Mickey Miller is expecting this to be one of the largest ABC Sales ever, as donations have overflowed storage spaces, so be sure to mark the date on your calendar.
The mission of the New Bern Historical Society is to celebrate and promote New Bern and its heritage through events and education. Offices are located in the historic Attmore Oliver House at 511 Broad Street in New Bern. For more information, call 252-638-8558 or visit: NewBernHistorical.org or Facebook.com/NewBernHistoricalSociety.
Submitted by: Kathy Morrison, New Bern Historical Society