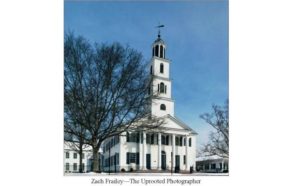 Continuing its Bicentennial Celebration, First Presbyterian Church of New Bern, in partnership with the Rothermel Foundation, will host a presentation on the church's architecture, Sunday, February 12, 2017 at 2:00 pm in the Sanctuary at 400 New Street, New Bern, NC.
Mr. Charles Francis, AIA, President of C. R. Francis/Architecture, p.a. of New Bern will present his program titled "First Presbyterian Church: A New Architecture in the Wilderness," which will provide information on the design of First Presbyterian Church, the oldest continuously operated church structure in New Bern.
Charles Francis, AIA, is a New Bern native and active community member. He is an Honor Graduate from NC State University with a Bachelor's Degree in Environmental Design in Architecture. He was awarded a Master of Architecture Degree from Clemson University in 1977. Mr. Francis has served in various leadership capacities professionally including several positions with the American Institute of Architects – Eastern Section – NCAIA. He was an Instructor at East Carolina University – School of Art from 1986-1994. His architecture firm has designed many projects in Eastern NC including a number of churches and public buildings. He is a Founding Member and Past Chairman of the New Bern Historic District Commission and has served on the New Hope Presbytery Outdoor Ministry Committee. Mr. Francis is a life-long member of First Presbyterian Church, New Bern.
The public is invited to attend and a reception will follow the program in the Session House adjacent to the church.
The First Presbyterian Church of New Bern, NC, is celebrating the 200th anniversary of its founding with a year-long commemoration of the church's past, present and future.
"First Pres" as it is lovingly referred to by members and non-members alike had its formal organization in the parlor of Mrs. Elizabeth Minor on Craven Street near Pollock Street under the leadership of Rev. John Witherspoon with 13 original members. Rev. Witherspoon, a New Bern native, in addition to organizing First Presbyterian Church, New Bern, organized or helped to organize First Presbyterian Churches in Raleigh, Greensboro and Bethlehem, NC.  Five years later, the New Bern church building, located at 400 New Street, was dedicated.  A contemporary newspaper account stated that the structure was ". . . capable, by computation, of accommodating 800 persons."  Undertaking such an ambitious construction project by the founding members reflected a tremendous vision of faith and service to their community. The sanctuary they established is recognized today as the oldest, continually operated church building in New Bern.
The bicentennial year will feature a variety of celebratory events, interactive lectures, concerts and engaging worship services to tell the inspirational history of First Presbyterian Church, New Bern, and its outreach to the local community and to the world beyond. The celebration will culminate New Year's Eve, Sunday, December 31, 2017 with a church-wide rededication to the vision of the founding members as the congregation moves forward to the next 200 years.
Rev. Dr. William L. Hawkins is the Senior Minister at First Presbyterian Church.
Submitted by: Micajah Newman