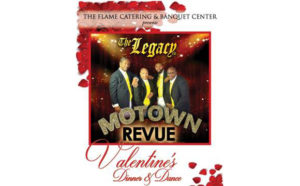 Happy February! You know what February brings: Valentine's Day! This year, the Flame is making it easy to declare your love for your Valentine by hosting a dinner and dance Saturday, February 11th at its catering and banquet center at 2301 Neuse Boulevard.
The Legacy Motown Revue is taking the stage, paying tribute to the legendary icons of Motown. Doors open at 6pm. Love the music of the Temptations? Dance 'til your heart's content. Long for the days of legendary bands like the Drifters, the Jacksons, or Earth, Wind and Fire? It's all here. This highly choreographed and super talented group is bringing back the groove!
To top it all off, Chef Smoke is planning a gourmet prime rib buffet. "We're celebrating in a big way," says Chef Smoke. "It's Valentine's. What better way to show your love than to head out on the town for a special night, or get a group of friends together and go dancing!"
The buffet dinner will include chef specialties for all tastes and a cash bar. Dinner is from 6-8pm and the band takes the stage at 8 o'clock. Tickets are $45 each in advance and $55 at the door. Call 252-633-1193 to reserve yours or purchase online at TheFlameCatering.com.  Hope everyone has a happy Valentine's Day!
Submitted by: The Flame Catering and Banquet Center