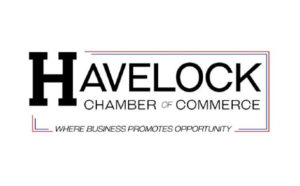 The Havelock Chamber of Commerce is seeking sponsors for our 2017 Salute to our Veterans and Military. We will be holding a Dinner on Tuesday, May 9, 2017.
This yearly event is made possible by the continued support of our community business leaders who recognize the importance of thanking our veterans and active duty service members for the sacrifices made in protecting our great nation.
In order to accomplish this, we are providing multiple sponsorship opportunities as outlined on the following page. We hope that you will join us in making our veterans and active duty service members feel that their contributions to our great nation are appreciated.
Since 2003, the Havelock Chamber of Commerce has received overwhelming support for this amazing display of community recognition and with your help, this year's celebration promises to be the best one yet. By sponsoring a table, you will be providing veterans and their families an opportunity to attend free of charge.
This year's event will take place on Tuesday, May 9, 2017. There will be a social at 6:00 pm, dinner will be served at 6:30 pm, and entertainment will be provided and will conclude with a cake cutting ceremony.
Submitted by: Sue Cline, Havelock Chamber of Commerce