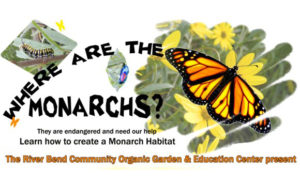 Monarch butterflies may soon be added to the endangered species list. When RBCOG gardeners heard this disturbing news they decided to take action. Their project, assisted by the New Bern High School Green Team, created a Monarch habitat in an area at the community garden.  Within months of planting the single food source for the butterfly, they were rewarded. Now they want to share what they learned so others can help these delicate creatures survive.  The River Bend Community Organic Garden and Education Center is pleased to offer a free workshop, Where Are the Monarchs? Led by RBCOG garden coordinators, attendees will learn how to create a habitat for monarch butterflies as they migrate to and from their northern and southern homes. Through narrative and photos taken between May and October at the garden, attendees will see the metamorphosis that moved from the genesis of a habitat to the emergence of new monarchs. Presenters will offer tips to create small space, backyard habitats for these beautiful, at-risk creatures that are valued as an "iconic pollinator species."
The workshop is scheduled for Tuesday, March 14th at 6:30 pm at River Bend Town Hall, 45 Shoreline Drive. This workshop is recognized for continuing education credit for master gardeners.
Refreshments will be served after the workshop.
Recent workshops have been filled. Reservations are recommended. Contact Dee Smith at 252-634-3192 to reserve a space.
Submitted by: Constance Casey, River Bend Community Organic Garden and Education Center