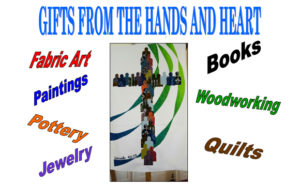 Bicentennial Celebration Continues
First Presbyterian Church, New Bern continues its Bicentennial by celebrating the many talents of our congregation's artists and authors. A special evening program titled "Gifts from the Hands and Heart" will be held Friday, March 31st in the J. Murphy Smith Center, 508 Middle Street, New Bern from 5:30 pm to 8:00 pm.
Come and celebrate the creative talents of our First Pres Community! Bring friends and family to see, taste and hear talents of members that will amaze you! You may even purchase your choices of Paintings, Pottery, Jewelry, Fabric Art, Woodworking, Quilts, Books and more…all created and offered by members of our community. Be prepared also to hear stirring music offered by Middle Street Moods and Seth Smith of Hot Buttered Grits!
Admission is free. Come early to purchase your favorites from our friendly authors and artists, view the Silent Auction items, and stay until the 7:30 Live Auction begins. Plan to bid, big, on major works! All proceeds go towards the Bicentennial Fund. Your purchases may be made via cash, credit card or check payable to First Presbyterian Church. Items range in price from $1.00 to thousands…Yes! We are counting on generous shoppers once you see the results of talented artists and authors.
Check our list of Artists, and pat yourself on the back for knowing many of them personally: Betsy Hillhouse, Marvin Maune, Mimi Dixon, Nancy Chiles, Sue Callahan, Robert Hennon, Cheryl Young, Mary Ann Carzoo, Karen Dodd, Tracey Fritzche, Lynn Gorges, Marilyn Vandersea, Anne Griggs, Jim and Phoebe Briley and daughter Phoebe, Skip Bradley, Elsie Williams, Rebecca Forest, and Christa Metzger.
Did you realize that these famous Authors are also your friends and neighbors? Pat Avery, Janet Benrey, Chip Chagnon, Polly Frank, Tom Watson, Christa Metzger and Lloyd Griffith…..all are published authors and their books will be on display and for sale.
As if these items for purchase were not enough, consider participating in the SILENT Auction! Wait until you see Skip Bradley's vase made of the pecan trees that were in the space of the Ministry Center; hall table crafted by the Brileys; painting by Anne Griggs; pottery by Bettina Meekins and Ben Watford; jewelry by Elsie Williams and Rebecca Forest; floral arrangement by Nancy Chiles; an SUP (Stand Up Paddleboard Party) given by Charlie and Kate Lewis; family portrait by Erin Smith; afghan by the First Pres Knitters; quilt by Karen Dodd; teeth cleaning, whitening and oral exam by Gibbs Dentistry; gourmet food by Jody Cheek at Village Butcher; even pew doors from the earliest days of our sanctuary.
The Live Auction, beginning at 7:30 will feature Marvin Maune's The Cupola, Robert Hennon's Raspberries in a Glass Basket and a hall table produced by the Brileys from a pew dating back to the earliest days of the founding of First Presbyterian Church. What about a lose .55 caret diamond?
Please come and celebrate with our artists, authors and musicians of First Presbyterian Church of New Bern and support the Bicentennial Fund which will keep on giving through the years!
For more information, visit First Presbyterian Church at 400 New St., New Bern, call 252-637-3270 or check out our website: FirstPresNB.org
Submitted by: Nancy Newman, First Presbyterian Church