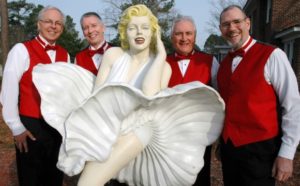 Perhaps you're a fan of the Southern Gentlemen or you just enjoy really good acappella harmony  or you're hoping to find a fun filled evening designed for the whole family. If so, go mark your calendar for Saturday, April 22nd at 7:30 p.m.
The Southern Gentlemen Barbershop Chorus … recognized for its "Singing Valentines" as well as its charitable support of many local civic groups, high school choral programs, churches and community wide events … is conducting its twenty-fourth annual show at Grover C. Field Middle School Performing Arts Center.
It also happens that the men of the Chorus will be celebrating their twenty-fifth anniversary of the founding of the Chorus.  What the audience can expect is a larger Chorus … a 25% growth in membership in recent months…while providing a wonderful performance under the dynamic direction of Jon Brinson.
The title song is "For Me and My Gal", with the songs that follow all wistfully reflecting on all sorts of "Gals"' (at least one will be Eight Foot Two!!). Two new parodies will certainly become audience favorites, along with their perennial crowd-pleasing "Carolina In the Morning" parody!
The feature quartet will be Zero Hour, District Gold Medal Champions, hailing from Charlotte, NC. For a sneak preview of their phenomenal sound, google "Zero Hour – Things are Looking Up" (from their recent International Quartet Competition in Nashville!
Tickets are available from Fuller Music, Bank of the Arts, Mitchell's Hardware, The UPS Store and The Flagman at the Farmer's Market as well as from members of the Chorus. Advance price $16. Door price $18. (tax included).  For credit card orders, call 252-288-9132.
Submitted by: Bill Rust, Southern Gentlemen Barbershop Chorus