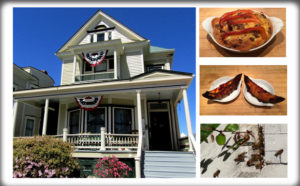 The Hanna House prides itself in preparing superb breakfasts. Camille has always felt that the best way to start the day is with a hearty breakfast that will carry you late into the afternoon. Having a degree in Culinary Arts from Michigan and supported by her husband Joe, who was originally trained as a cook, a multitude of skill and caring went into the continuing development of their breakfast menus.
Our menu is composed of roughly 12 entrée choices that change with the seasons. We do this so we can incorporate the freshest local meats, dairy, and produce and to provide our repeat guests with new options.
Let's start a morning meal: Coffee is roasted from our own blend by a roaster formerly from New Bern, but now in Virginia. It is a mixture of French and Honduran beans, dark and deep, waking up your senses. Next, we serve juice, fresh squeezed orange is very popular, and a fruit: if local berries are ripe we will incorporate them in a sliced medley, or we may pan sear cantaloupe and drizzle a port wine reduction sauce over the top. Pears roasted in butter and topped with pistachios is another favorite. Now for the entrée: Our new Spanish Frittata contains thinly sliced potatoes, egg infused with sautéed leek and a sausage mixture that includes chorizo, and Gouda cheese. This is topped with julienne strips of sweet red bell pepper and baked. Add to this a generous slice of our homemade sweet potato bread and your meal is complete. Eggs Benedict or Florentine, a spin on these two: Down Home Benedict, served with sausage gravy and country ham are just a few others. Not to worry, we will serve plain old oatmeal (well, not so plain) or scrambled eggs if you want and we do accommodate all dietary constraints: gluten free, vegan, etc. Let us know and your meal is designed for you alone.
Our Bed and Breakfast may be located in the central city, but our small back yard adds to your meal and afternoon and evening cakes and pastries. We care for bees, harvesting their honey for use on our table. Our pear tree provides lovely late summer fruit, our persimmon tree graces us with late fall fruit and our fig tree produces two crops: summer and fall of plump palette pleasers. Across the Neuse River, there are two blueberry farms from which we gather blueberries for the fruit cup and for our overnight pancakes. Travel up the road to White's farm and we collect fresh strawberries, raspberries and blackberries. Many of these find their way into the goodies we place on the front parlor table for our guests to munch on at their leisure: Ricotta pound cake, Irish soda bread with candied fruits, banana bread, and pear conserve cake, along with many others.
Does this sound like we are serious about food? You betcha!!!
Submitted by: Camille and Joe Klotz, Owners, Hanna House Bed and Breakfast
Side note: Although Camille and Joe are advertisers, they have supported us for many years and this article comes from the heart! We truly appreciate their support and if you haven't stayed at (or visited) the Hanna House, I highly recommend you do! Give them a call at 635-3209 or visit their website for more information.
Wendy Card