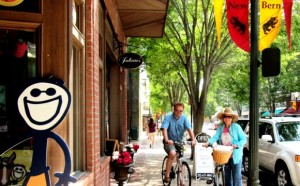 24th: Aaron Davenport Performs at Bear Towne Market at 10:30pm.
24th – 25th: The Complete Works of William Shakespeare, 8:00pm at The City Laundry. Call 252-876-7007.
24th – 26th: Down East Folk Arts Festival in Downtown New Bern. Call 252-633-6444.
24th – 26th: Once on this Island, Jr., Fri – Sat: 7:30pm; Sun: 2:00pm at the New Bern Civic Theatre. Call 252-633-0567.
25th: AAUW Women's History Walking Tour, 10:00am – 2:00pm in New Bern's Historic District. Call 252-637-9499.
25th: The Great Glow Run to benefit Easter Seals UCP, 6:30pm at Union Point Park. Call 252-636-6007.
25th: Casablanca Performance, 8:00pm – 11:00pm at The Brown Pelican. Call 252-636-1256.
Listen to our latest Podcast to hear more about the latest happenings in New Bern and Beyond:

What are you doing this weekend?
Tell us what you think sending us an email. Visit New Bern Now's Facebook page or sign up for the latest updates by submitting your email address in the right margin on New Bern Now's website.
Wendy Card