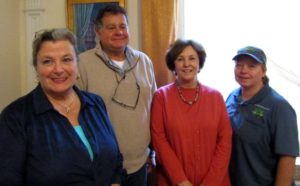 Find out the latest information about our beautiful and happening town of New Bern and Beyond. Beyond, meaning our travels throughout Eastern North Carolina.
Listen to our podcast show here:

During this show, New Bern Now's Podsquad: Rich Sheridan, Susan Moffat-Thomas, Special Guest, Dona Baker and I, highlighted numerous businesses and non-profits in and around New Bern!
If you didn't know, The Podsquad meets every other Thursday to record the bulk of the podcast. Although, we missed our mid-month Podcast because I was out of town. We also do phone interviews throughout the week and insert the recording into the next podcast and if it's a non-profit or event interview, it also airs on New Bern's News Talk Radio Station WNOS 107.5 FM.
Show notes:
00:26 – Intro Conversation about miscellaneous topics
4:15 – Tryon Palace Spring Heritage Plant Sale
5:02 – Trent Woods Garden Club's Annual Herb Sale at the New Bern Farmers Market
5:40 – Craven County Cooperative Extension Master Gardeners partner with CCC Adult Enrichment Program to teach classes
8:18 – Local Farmers
9:09 – Cape Lookout Sail and Power Squadron Boating Classes
10:29 – Kayaking, Canoeing, and Stand Up Paddleboarding
11:25 – Hiking Classes
12:12 – Turkey Hunting Season and Hiking in the Croatan National Forest
16:48 – Interview with Bonnie Foley of Jolie Salon
17:55 – Prevent Child Abuse Awareness Month
19:15 – Uncorked Wine Tasting at Nautical Wheelers of New Bern
19:35 – Festival of Fun presented by New Bern Parks and Recreation
19:59 – VFW Post 2514 Kids Easter Party
20:33 – Interview with Brian Cardoza, Founder of Survivor Knights and Chasing Immortality Event
22:48 – Spring Historic Homes and Gardens Tour presented by the New Bern Preservation Foundation and the New Bern Historical Society.
24:40 – Garden Lovers Weekend at Tryon Palace
25:19 – Hoedown Throwdown with Sutter's Gold Streak Band, 3 Day Weekend, and Cuzins
25:54 – 9th Annual East Carolina Pottery Festival
26:33 – New Bern Business Expo 2017 presented by the New Bern Area Chamber of Commerce
27:06 – ArtWalk and ARTcrawl throughout Downtown New Bern
28:04 – Art at The Airport
28:38 – Explorations: The International Film Series "The Rocket"
29:36 – Tryon Palace's Easter Egg Hunt
30:09 – 7th Annual Community Fabric Awards presented by Craven Community College Foundation
31:52 – Masterful dog training with Dona Baker
32:50 – The benefits of using Essential Oils for people and pets
34:47 – Leash walking and dog obedience classes and information
39:16 – Daytrippin' to the Crystal Coast
41:50 – Coastal Women's Forum Annual Dinner and  Trade Share
43:38 – Earth Day
Tune into our latest Podcast episodes and radio interviews on ITunes.
We'll be back on April 17, 2017.
Please let us know if you have any comments, suggestions, or would like to set up an interview and spread the word about a special event or other interesting topic. We look forward to hearing from you!
You can subscribe to New Bern Now and Beyond by pressing the orange Syndication RSS feed located under the calendar: http://newbernnow.libsyn.com/.
Tell us what you think sending us an email.
Visit NewBernNow.com!
Wendy Card