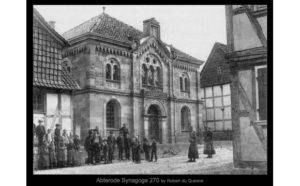 Rick & Martha Schulhaus Will Share Their Family History Discoveries
On Tuesday, May 9, 2017, at 6:30 p.m., the Craven County Genealogical Society will begin the evening with a cookie and punch reception where members and guests are welcome to discuss their research and learn more ways to find their ancestors.
At 7 p.m., the Craven County Genealogical Society is pleased to host Mr. Rick and Mrs. Martha Schulhaus, members of the Society who joined in  April 2016.  Rick Schulhaus spoke on that April evening hoping to find Schulhaus relatives in Germany.  That genealogical pursuit seemed daunting, working on New York Schulhaus family's assumption that the entire Schulhaus family in Germany had perished in the Holocaust and with them, all their family records.  Rick Schulhaus will reveal the family discoveries he made during the last year.
(The Reverend) Rick Schulhaus is a retired, ordained Lutheran pastor.  Rick grew up in Queens, New York, served most of his parish ministry in eastern Massachusetts, and retired with retired teacher and wife Martha to Greenbrier, in New Bern, in September 2011.  Rick volunteers at Craven County Hospice, prepares and serves meals at Saint Andrew Lutheran's free Saturday evening meal, and is one of the more than twenty-five volunteer, "adjunct chaplains" serving in the afternoon and evening at CarolinaEast Medical Center.
Following Rick's presentation, we will have our popular Genealogy Q&A, so please bring your questions and hopefully someone in the group may be able to assist you.
The Society's monthly meetings are held the second Tuesday evening at the New Bern LDS Church located at 1207 Forest Drive off Trent Road.  Please enter through the front door.  The monthly meetings are free and open to the public and membership is encouraged.  The Society has a vibrant and diverse membership representing not only Craven County and North Carolina, but also many other states as well.
For more information, please visit our website at CravenGenealogy.org or our facebook page at or contact President Nancy Perdue at 252-638-3291.  You are also welcome to visit the New Bern LDS History Center which is free and open to the public on Tuesdays (1 p.m. to 4 p.m. and 6 p.m. to 9 p.m.), Wednesdays (6 p.m. to 9 p.m.), and Thursdays (1 p.m. to 4 p.m.).  It is staffed by researchers who are happy to assist you in learning how to find your ancestors.  The History Center provides free on-site access to some of the most popular online genealogy research databases.  More info is available at Tinyurl.com/LDSHistoryCenters.
Submitted by: David French, The Family History Society of Eastern NC