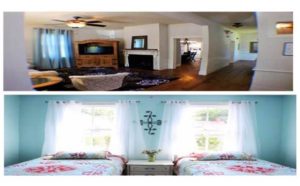 All over the world and right in our own neighborhoods, young women are trapped in modern day slavery and suffer horrific injustices.
True Justice International, with the help of generous donors, has responded to the call and officially opened Anna's House. This restoration home is an all-inclusive, five bed, comprehensive healing home for adult female survivors of sexual and labor exploitation. Anna's house is free of charge and takes a holistic and trauma informed care approach to healing with services to include but not limited to:
– Housing
– Transportation
– Trauma informed counseling
– Personal development planning
– Substance abuse counseling
– Vocational and life skills training
– Job placement assistance
– Equine therapy
– Mentoring
– Community service opportunities
– Family restoration classes
– Collaboration with qualified loving families to provide child placement while in program
The cost of providing complete residential care at Anna's House is $60 per day per resident. If you would like to join us in bringing healing and restoration to these precious girls please sign up to be a monthly partner on our website at TrueJustice.global.  If you would like information on referrals for our restoration program please call us at 252-631-5111.
Thank you for celebrating the opening of our restoration home with us and enjoy this sneak peek into Anna's House.
Submitted by: Traci Klein, Executive Director, TrueJustice.Global