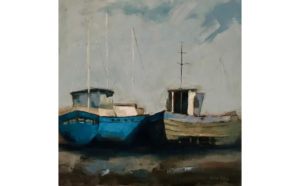 Bank of the Arts, 317 Middle Street
May 6th – June 24th
Craven Arts Council & Gallery is proud to present the work of Gosia Tozja in the Main Gallery at Bank of the Arts for the months of May and June. Gosia's work examines a variety of subjects in her unique, impressionistic style. Craven Arts Council will host an opening reception for the exhibit during the Downtown New Bern ArtWalk, May 12th, from 5pm to 8pm.
Gosia's work is reminiscent of Impressionism, capturing the light and essence of a subject in quick, powerful strokes of color. Working in oil, she utilizes impasto and wet on wet techniques to deliver loose but effective renderings. Her canvases deliver thoughtful scenes rendered in short, thick brush strokes and deft maneuvering of the palette knife.  Like the French Impressionists of the 20th century, Gosia's work draws on everyday life around her, from nautical scenes to ballerinas, horses to landscapes. In a break from tradition, she uses blacks and grays in her work, giving them a depth of contour and shadow that gives the work an enigmatic, thoughtful quality.
Gozia (short for Malgorzata) Tozja was born in Poland to a family that included generations of artists. Her grandfather and great grandfather were both fine artists, along with her mother, an icon painter, and her brother, an oil painter and filmmaker before he passed away. She has lived in Poland, Germany, Canada, and the United States, initially teaching herself how to paint before studying under Susan Hectch in Apex, North Carolina. Speaking on art, Gosia says "My goal is to capture nature on canvas in most creative and humble way. I create art from my very essence, and natural beauty that surrounds me. I find the beauty and peace to transform, inspire and take the adventure of art to another paradigm."
For more information please contact Jonathan Burger at 252-638-2577, Marketing and Gallery Director, Craven Arts Council & Gallery, Inc.
Submitted by: Jonathan Burger