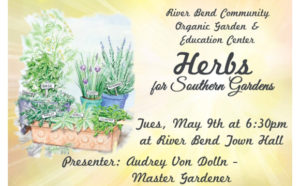 Is this the year to start an herb garden? Do herbs grow in eastern North Carolina? Want to know more?
River Bend Community Organic Garden and Education Center is pleased to present Herbs for Southern Gardens on Tuesday, May 9, 2017 at 6:30 pm at River Bend Town Hall.
Our presenter is long time local resident and 20 year Master Gardener Audrey Von Dolln who is an expert in starting and raising herbs in this region. Herbs are a versatile plant. They can be used for culinary, ornamental or medicinal purposes. Audrey will discuss which herbs are easy to propagate and grow, designs for a small herb garden and growing herbs in a container. Her accompanying demonstration will illustrate best practices for starting herbs in a strawberry jar.
Following the presentation, herb-themed refreshments will be served.
RSVP is necessary. Contact Dee Smith at 252-634-3192.
Submitted by: Connie Casey, River Bend Community Organic Garden and Education Center