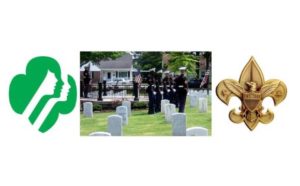 Memorial Day, May 29th, is special for all Americans.  It is the day we pay tribute to fallen veterans that served their country in war and peace to preserve our freedoms and liberty. In preparation for Memorial Day the Craven County Veteran's Council wish to recognize and thank the members of the Boy Scouts and Girl Scouts Enchanting Waters of New Bern, NC for their patriotic support honoring veterans by their placing of American flags on the grave sites of veterans resting at the New Bern National Cemetery. It takes special people to do special things; these Scouters certainly measure up to this call. Many living veterans, not too long ago, were also Scouts. We appreciate the work and importance of Scouting in development of becoming good citizens.  When you finish your tasks, feel good and be proud of yourselves. You represent the very best our community has to offer…you can do anything, be anything you want, just keep scouting alive in your heart and live by the three C's of scouting…Courage, Confidence, and Character. Thank you.
Note to the community. The Boy Scout and Girl Scout Enchanting Waters Memorial Day Flag Program is scheduled for May 27th, 9 – 11am at the New Bern National Cemetery. Following placing of the flags there is to be a short program that concludes with the scouts personally thanking attending veterans for their service and sacrifice. Please plan to attend. For additional information call Diane Buchner at 252-514-2350.
For more information, call the Craven County Veteran's Council at 252-296-1981 or visit Facebook.com/Craven.County.Veterans.Council/.
Submitted by: Dobert Owsley, Craven County Veteran's Council