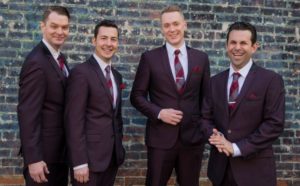 Limited Tickets Still available for May 21 Performance
When the dynamic retro group Under the Streetlamp appears at the New Bern Convention Center on May 21st, one Tony award-winning member of the quartet will feel right at home.  Brandon Wardell, was born in High Point, NC and found his love of music at an early age as he grew up as his Daddy's roadie and helped set up hundreds of club shows before he was old enough to get into the venues.  His first gig in front of a crowd of 5,000 came at the ripe old age of 5 and he has been hooked ever since.  Brandon's first big break as a singer came when he was asked to sing at the Merle Watson Festival in Wilkesboro, NC for a crowd of over 100,000.  He performed between bluegrass legends Allison Krauss and Emmylou Harris.  Also on the card was one of Brandon's favorite bands, Bela Fleck and the Flecktones.
Brandon went to the North Carolina School of the Arts after working professionally for a few years after high school in regional theatres and in concert venues.  After a couple of years there he felt the best learned lessons were waiting to be found and set out again to work in the professional world.  Brandon still has a close relationship with NCSA to this day and has given master classes at the esteemed University as well as other professional actor workshops around the country.
His professional career began as a teenager and has included theater, film, concerts and television. Across those mediums, he has found success as a performer, producer, technician and engineer.  Brandon made his Broadway debut in James Joyce's The Dead beside Christopher Walken and Marni Nixon (the singing voice behind the biggest stars of films Golden era including: Audrey Hepburn, Natalie Woods and Deborah Kerr) who later became his go-to voice teacher.  He appeared in the Tony Award winning musical Thoroughly Modern Millie opposite Sutton Foster (Younger).  He continued his Broadway performing career in the Tony Award Winning production of Assassins with Denis O'Hare and Neil Patrick Harris, Good Vibrations the Beach Boys Musical, and Catch Me If You Can.  He played Scott in the hit Off-Broadway show Evil Dead the Musical where he set a new record for onstage deaths by a performer in a week (48 deaths).   Brandon was featured in Rent at the Hollywood Bowl which also starred Wayne Brady, Nichole Scherzinger, Vanessa Hudgens, Aaron Tveit and Rachel Harris.  Wardell performed live for an audience of more than a million people, with a television audience of millions more at the Times Square New Year's Eve Celebration.   Outside of the amazing places he plays with Streetlamp, some of his favorite performances have been on the stages of Radio City Music Hall (Tony Awards), Avery Fisher Hall (on PBS Great Performances) and MerleFest, where he shared the bill with Allison Krauss, Emmylou Harris and Bela Fleck and the Flecktones.
Also a prolific producer, Brandon's work for the stage has been honored with five Tony Award nominations, with one win for Porgy and Bess.  In the recording studio, his work has garnered four Grammy Award nominations including Gypsy starring Patti Lupone, Ain't Misbehavin' starring Ruben Studdard and Frenchie Davis, and Fela! which features the world-famous afro-funk phenomenon Antibalas.  Brandon's musical compositions and voice can be heard on the upcoming film release Gala and Godfrey, appearing now in festivals worldwide, having already won multiple awards.  Brandon is one of the producers behind the hit show Delusion, which is a live, interactive horror show currently being developed in a virtual reality setting by Skybound Entertainment (The Walking Dead).
So, you see, this hard-working Carolina boy has amassed quite a list of accomplishments. Now Brandon joins Eric Gutman, Christopher Kale Jones and Shonn Wiley to make up Under the Streetlamp, America's hottest new vocal group. On May 21 expect an electrifying evening of classic hits from the American Radio Songbook, as they bring their unique blend of tight harmonies and slick dance moves to your favorite Doo-Wop, Motown, and old time Rock 'n' Roll hits.
Tickets are still available, although VIP and preferred seats are sold out.  Visit the New Bern Historical Society at 511 Broad St., 252-638-8558 or go to NewBernHistorical.org/tickets.
Submitted by: Kathy Morrison, New Bern Historical Society