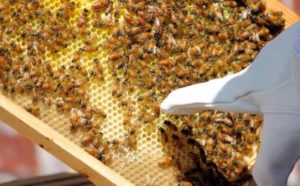 May 10th at 5:30pm
The May Palace Pours will feature a discussion on The Beers and the Bees on the Tryon Palace garden patio behind the Stable Office.
While attendees imbibe a selection of honey beers, Tryon Palace Gardens and Greenhouse Manager Hadley Cheris will lead a discussion about the history of beekeeping in colonial America and how that differs from today's beekeeping practices. Beekeeping tools on display will include a demonstration hive and honey comb. Visitors will be able to see Tryon Palace's honey bees at work with the observation hive.
The honey beers featured during this Palace Pours will be Appalachian Mountain Brewery's Boone Creek Blonde Ale with wildflower honey and Gizmo Brew Works' Beekeeper Honey Wheat.
Palace Pours is open to ages 21 and over. Ticket price includes flight of craft beer (2 6oz samples), additional beer available for purchase. Non-alcoholic beverages also available. Tryon Palace Foundation members recieve a 10% discount.
For more information call 252-639-3500 or visit TryonPalace.org.
Submitted by: Craig Ramey, Director of Public Affairs, Tryon Palace