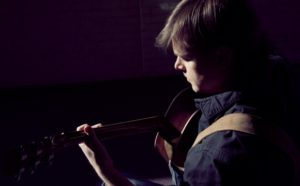 Trent River Coffee Company, along with Courtyard by Marriott is excited to invite music lovers of all ages on Saturday, July 15 at 7:30 pm, to be dazzled and amazed by returning Nashville-based acoustic-looping Artist – Jeff Miller. Jeff will be performing in New Bern, NC as part of his Summer 2017 East Coast Tour. Patrons will receive a treat with the opening act by local New Bernian, George Oliver, performing with his well-known and loved family band "Strung Together". To listen to Jeff Miller and preview his work visit JeffMillerOnline.com. You can also visit StrungTogetherBand.com to learn more about "Strung Together". Pre-show begins at 7:30 pm. This venue has limited seating and tickets are on sale now and can be purchased online by visiting CamsMom71.wixsite.com/jeffmillerlive or by calling 252-639-1644. Tickets will also be available at Trent River Coffee Company, located at 208 Craven Street, 252-514-2030, downtown New Bern. Tickets are $10.
Jeff knew, from age five, that he wanted to follow his dream of becoming a musician when he started violin lessons and was showing a serious aptitude for music by age eight. In the years since discovering his love and talent for the guitar, Jeff has accomplished much. This gifted musician is a graduate of the prestigious Berklee College of Music, a devoted husband and loving father of two. His live-looping technique has become ubiquitous for up-and-coming guitarists and his skills as a teacher and mentor are now in high demand. Jeff's "Loop of the Week" video series was the first and most popular video series of its type on Youtube. His music has been featured on nationally syndicated television, and CBS Sports. Most recently Jeff has even found time to add acting to his resume as an extra on the ABC show Nashville. He is now touring in support of his latest album "Loops", featuring Phil Keaggy – world renown looping guitarist.
What is live-looping? Basically, it is a process by which a player can record a musical phrase live, in front of an audience, and immediately play it back in repetition. While this phrase continues to repeat, the player can record another "loop" to layer over the original. This process can be repeated multiple times, creating dense, layered compositions mimicking the sound of multiple musicians and backing vocalists. Jeff has adopted this technique into his core style, adding elements of songwriting and expression alongside the technical prowess required.
For Jeff, though, it's always been about the music. He looks forward to continuing to craft his songwriting, instrumental, and producing skills, and connecting with people that love music. Come on out to one of his shows, you won't regret it.
Here is a sample of what people are saying about Jeff Miller:
"His music is timeless. Like other notable purveyors of pop, such as Todd Rundgren, Badfinger or Ben Folds, Miller isn't afraid to embrace and wield melody as a musical weapon. The songs on "Seesaw" are infectious delights, from the Abbey Road-fueled 'Scars' to the sunny-side sound of 'Can't Take it With You' and its contrasting lyrical sentiment. Miller even shows a new, heavier side in 'The World is Out to Get You', arguably the album's best track." Rege Behe, The Pittsburgh Tribute-Review
"His compositions are balletic, his live stage performance beguiling and befuddling, as one wonders, 'How is all that sound coming from one man?' Miller's CD, 'Can You Hear the Music?' captures some of the magic of Miller live." Stacy Leiser, Clarksville Leaf-Chronicle
"That just totally blew my mind." Jon Decious, former bassist with The Pink Spiders (now with Devious Angels)
"I don't know how he does what he's doing, but it's amazing". Gary Burr, hit songwriter and member of Ringo Starr's All-Starr Band
Submitted by: Roxann Wheeler