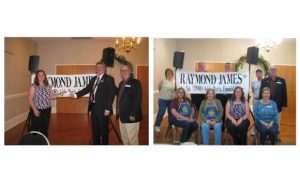 Local Rotary Club provides two $1,000 scholarships to women returning to the workforce in May 2017.
Women sometimes leave the workforce and then are forced to return when circumstances are harder than they originally were.  The main challenge is because while out of the workforce, the workforce skill set has moved on and the women are left to catch up – somehow, someway, on their own.  One way of catching up is to go to school either college and vocational.  Either provides good incomes and financial security for the family.
But who can afford to go to college these days with the costs?  You want to go to college to get education and/or skills to do well but you have to put dinner on the table and a roof over a family's head while going to school.  This is a daunting task and those who succeed are to be admired and used as role models.  When a woman with children does this, she is teaching her children the value of school by demonstration and not just talk.  She shows the importance of completing a task started and doing your best.  She shows the value of never quitting despite challenges – treating these challenges as opportunities, not obstacles.
Let us meet two women who are excelling at life and choose to compete for scholarships – on top of working, taking care of a family, taking care of a home, and going to school!
Kenya Gainey is a mother of two girls; the youngest is a year old and was born 5 months early!  She works 47 hours a week and supported the youngest through many surgeries.  She has completed 79 credit hours at Craven Community College obtaining a GPA of 3.6!  Upon completion of the Associate Arts Degree next semester, she will be able to get a better paying job.  Immediately she will work towards a Bachelor in Business to become an Accountant and ultimately own a restaurant or hair salon – while still working!
Eboni Anderson is a mother of four children.  She works part time at the Craven Regional Airport AND as a seasonal receptionist for Jackson Hewitt Tax Services in addition to going to school where she has completed 35 hours at Craven Community College with a GPA of 3.7 in Business Administration – with this scholarship she will graduate from Craven Community College with an Associate's degree.  She is a member of Kappa Beta Delta International Honor Society on top of all this.  Her goal is to obtain a Bachelor's degree to obtain a job in Human Resource Management at which point she will pursue her Master's degree.
These two women exemplify why the Neuse Sunrise (Bridgeton) Rotary Club hosts a golf tournament every year to provide a scholarship to women returning to the workforce.  These women are an inspiration to club members and should be for the rest of the community.  They have drive and demonstrate love for their families by showing them how to preserver and succeed in life each and every day.
This year the club sponsors stepped up to the plate in an extraordinary way enabling the club to provide two scholarships instead of only the one normally provided.  Raymond James stepped up to be the largest donor because of the purpose of the Annual Charity Golf Fundraiser – a company representative even attended several meetings to help with the planning.  The club invited a Raymond James Partner, Ashley Martin, to present the two scholarships at the luncheon after the golf tournament.  Mr. and Mrs. Joseph Hughes, professional Golfer Frank Fragale, and Dr. Stephen Hoard also were large donors making these scholarships possible.  The remaining donors, and equally valued as those mentioned, included:  Baldree's Tire Pros, Continuing Journeys, Fisher Oil Company, The Insurance Center, Neuse River Photography, Commissioner Thomas Mark, Liberty Carpets, Tysons & Hooks Reality, and White & Allen Law Firm, MBF Architects, Marge Abenanete, and Mr. & Mrs. James Hoffmann.  But others contributed time and effort as well to include: Signs Galore, Odhams Florist, Food Lion, Walmart, Harris Teeter, Hearne's Fine Jewelry, The Sound of Freedom Golf Club, The Emerald Country Club, Minnisott Golf Club, Taberna Country Club, Harbour Point Golf Club, Carolina Colours Golf Club, and River Bend Country Club.
Submitted by: Patti Mason, Neuse Sunrise (Bridgeton) Rotary Club