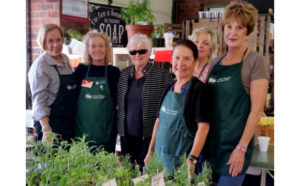 The Trent Woods Garden Club is dedicating a Blue Star Memorial Highway Marker at the Rest Area at Clarks Road on Sept. 8, 2017.
The Blue Star Marker program began in 1941 by the National Garden Club with the desire to honor our men and women in the Armed Services. These markers can be found not only on highways, but also in parks, veteran centers, hospitals and cemeteries. There are over 90 here in North Carolina. We are proud to say that Craven County has three: one on Highway 70 at Pembroke, one in Havelock in front of the Havelock Police Center and a Byway Marker in Trent Woods.
We are supported by the Craven County Veterans Council, (which includes 12 local veteran organizations), Elks Post #764 and the Knights of Columbus. The NC Department of Transportation will be installing the marker. The Marine Color Guard and the Knights of Columbus Honor Guard will be present. There will also be a Salute to the Military by the US Coast Guard.
We invite veterans, retired and active duty, and their families along with all citizens  in Craven County to  attend this tribute: All to see, lest we forget, those who help to keep us free.
For more information, please contact Paula Hartman, Chair via email.
Submitted by: Dona Baker, President/Trainer, Masterful Dog Training, Inc.