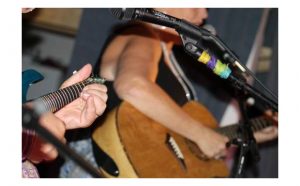 Tracey Brenneman and Simon Spalding, both institutions in the New Bern music scene, will team up to perform at Trent River Coffee Company on Friday, October 20!  With an acoustic mix of covers and an occasional original, Tracey and Simon will rock the house!
Tracey Brenneman was the lead vocalist for two bands in Raleigh: symphonic metal IronSymphony and party band Trophy Husbands.  Tracey also sang and played guitar and keyboards for the local group Zen Pirates.  She recently joined the band Mimic, singing and playing guitar and mandolin.
Simon Spalding grew up in San Francisco, and has lived in eastern North Carolina since 1989.  Simon is a multi-instrumentalist who performs locally with The Bears, Casablanca, Rock Bottom Deal, and solo.  When backing Tracey, Simon alternates between fiddle, mandolin, banjo, and bass.
Tracey and Simon will perform at Trent River Coffee Company, 208 Craven Street in New Bern.
The doors open at 6pm, and the music starts at 7pm. Tickets are $10, available at the door.  Concert-goers under 18 admitted free.
Call 252-514-2030 for more information.
Submitted by: Simon Spalding