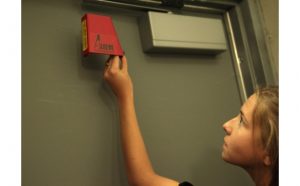 The Tryon Palace Foundation has received a new security solution, "The Sleeve," in the form of an in-kind donation from Fighting Chance Solutions. "The Sleeve" is a steel device that slides over the closer-arm of a door, preventing the door from being opened from the outside in the event of an emergency or hostile intruder situation. Fighting Chance Solutions has generously donated 30 "Sleeves."
Developed by Daniel Nietzel, President of Fighting Chance Solutions, and four other educators, "The Sleeve" was originally created to protect students and faculty at schools in the event of a shooting. The steel device can withstand more than 550 lbs. of external force, making it nearly impossible to open from the outside. Due to the increase in public space shootings, Fighting Chance Solutions has expanded their reach to not only schools, but to workplaces, places of worship and military and government institutions as well.
Tryon Palace will use the newly donated "Sleeves" to enhance and increase the level of security at the North Carolina History Center which is visited by more than 200,000 guests each year, including school groups, and is home to many collection items and exhibit galleries.
Fighting Chance Solutions was formed in 2013 when a team of educators and entrepreneurs in Iowa recognized something was missing when standard classroom security trainings recommended securing doors with belts and barricading doors with bookshelves. Fighting Chance Solutions has expanded their product offerings to accommodate various types of doors and is now proud to serve and protect classrooms, homes, offices and government institutions in all 50 states.
For more information about Fighting Chance Solutions, visit FightingChanceSolutions.com.
The Tryon Palace Foundation is a 501(c)(3) membership organization that formed in 1993 to develop audience and financial support for Tryon Palace. The Foundation sponsors Tryon Palace's many annual educational programs, including character interpretation, exhibits, the Fife and Drum Corps, Jonkonnu, special events and performance-based programs.
For more information about the Tryon Palace Foundation, call 252-639-3519 or visit TryonPalaceFoundation.org.
Submitted by: Chelsea Payne, Marketing Specialist, Tryon Palace