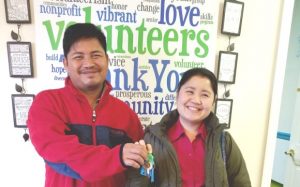 Publix Super Market "Elves" will deliver $500 of grocery items to Habitat for Humanity's newest homeowners, Somchai and Pee Koh Chetthakun, on Tuesday, December 19, at 11:30 am at 1109 Biddle Street.
Publix Supermarket Charities sponsored the construction of this Habitat home (#62) and even brought a group of volunteers from Publix here in New Bern to work on the house build site on April 4th.  As an extension of their support for "their" Habitat home, the local Publix is gifting this "Basket of Groceries" to the family.
The story of Pee Koh's past and how she has come to be in New Bern, and now owning her own home, is even more amazing!
For more information, visit The offices of Habitat for Humanity of Craven County and the ReStore at 930 Pollock St. or call 252-633-9599.
Submitted by: Deedra Durocher, Volunteer & Resource Coordinator, Habitat for Humanity of Craven County