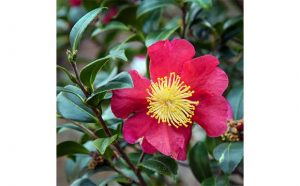 Free lecture has been rescheduled for January 20
Tryon Palace's January garden lecture series features a presentation from the Twin Rivers Camellia Club. This free lecture will take place in the Cullman Performance Hall at the North Carolina History Center at 10 a.m. Saturday, January 20.
The Twin Rivers Camellia Club will present a lecture on a visit to Massee Lane, the mecca for camellias, and provide information on the various bloom types. Members of the club will also review the "cheat sheet of dos and don'ts" on camellias.
"Camellias are one of those quintessentially Southern plants I love and they don't get the appreciation they deserve for their role in the winter garden," said Hadley Cheris, Tryon Palace Gardens and Greenhouse Manager. "This lecture is a great way to introduce people to the amazing beauty camellias can bring into your yard!"
This lecture is a part of a series of monthly garden lectures hosted by Tryon Palace.
For more information call 252-639-3500 or visit TryonPalace.org.
Upcoming events at Tryon Palace include:
January 20: Lumbee Tribe Cultural Performance by Ryan Dial-Stanley
January 20: "Pieced with Care" Quilt Exhibit Opens
January 23: Behind the Scenes: Costume Shop
January 26: WinterFeast: Oysters, Brews, and Comfort Foods
About Tryon Palace
Tryon Palace, located in New Bern, NC, is part of the Office of Archives and History, an agency of the North Carolina Department of Natural and Cultural Resources. Tryon Palace is one of North Carolina's most significant historic sites. It is the home of the Governor's Palace, North Carolina's first colonial and first state capitol, and includes historic buildings, gardens and the North Carolina History Center, which revolutionizes the visitor experience through use of the latest interactive technology. The History Center includes galleries, a performance hall, the museum store and a waterfront café. Tryon Palace's mission is to engage present and future generations in the history of North Carolina from early settlement in 1710, the development of statehood and into the mid-twentieth century. It is dedicated to collecting, interpreting and preserving objects, buildings, landscapes and events that enrich understanding of the making of our state and nation.
Tickets and visitor information are available at Tryon Palace, 529 S. Front St., New Bern.
Submitted by: Chelsea Payne, Marketing Specialist, Tryon Palace