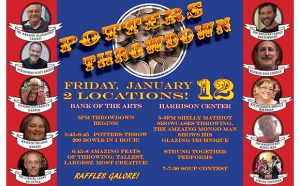 3rd annual event to include music and live demonstrations
January 12, 2018
Craven Arts Council & Gallery is proud to announce the 3rd annual Potters' Throwdown at Bank of the Arts and the Harrison Center on January 12th, from 5pm to 8pm during the downtown New Bern Artwalk. This year's event will feature nine potters, a music performance by Strung Together, and soup competition. There will be a "Blind Throwdown" at 7pm.
This year's Potters' Throwdown will feature Rich Daniels, Alessandro Cagiati, Carolyn Sleeper, Brent Wheelwright, Scott Haines, Shelley Mathiot Melanie Waters, Richard Harper, and Lanny Pelletier.  Six of the potters, set up at Bank of the Arts, will attempt to throw 200 bowls in one hour starting at 5:45. Afterwards the potters will each attempt to throw the tallest, largest, or most creative bowl they can during the reaming time. Bank of the Arts will also display "Hunger & Poverty" by Bill Lease, a black and white photography exhibition that highlights the role of food and food scarcity in the lives of North Carolina residents.
Other potters will be on hand at the Harrison Center to demonstrate other techniques involved in pottery, including glazing and a hands-on opportunity at a potter's wheel.  The Harrison Center will also feature a performance by the family band "Strung Together" and soup contest from 7 – 7:30 p.m. The final event of the night will feature a drawing for the "Pick a Price" raffle at 7:45 p.m.
The Potters' Throwdown serves to educate the public on the process of creating pottery, and create pieces and invigorate residents about the upcoming Empty Bowls event. Empty Bowls is a joint outreach of Religious Community Services and Craven Arts Council & Gallery that serves to feed the hungry and support the arts in Craven County. The Empty Bowls event will take place February 22nd at Temple Baptist Church. Tickets will be available at Bank of the Arts during the Potters' Throwdown and the months leading up to it.
For more information please contact Jonathan Burger, Marketing and Gallery Director, Craven Arts Council & Gallery, Inc. at the Bank of the Arts, 317 Middle St., New Bern, 252-638-2577
Submitted by: Jonathan Burger