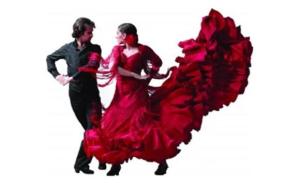 Friday, March 6th at 7:30 p.m.
The third and final performance of the 2014-2015 Lifetime Learning Center's Explorations in The ARTS series will feature Flamenco Vivo II dancers, singer and guitarist. This performance is scheduled for Friday, March 6th at 7:30 p.m. in the Orringer Auditorium on the New Bern campus of Craven Community College (CCC)
Flamenco Vivo II is a program of Flamenco Vivo Carlota Santana, founded in 1983 by Roberto Lorca and Carlota Santana, whose mission is to bring flamenco to schools, communities and performing arts centers. Flamenco Vivo II is based in Durham, North Carolina, and features performance from Spain and the United States. Santana is the current director and has been designated "The Keeper of Flamenco" by Dance Magazine in recognition of her commitment to creating new works and developing young artists and choreographers.
Flamenco is a multicultural performance art form that has origins in the southern region of Andalucía, Spain, approximately 200 years ago. It is Spanish folk dance style of the Andalusian Gypsies that combines cante (singing), guitarra (guitar playing), baile (dancing and foot stomping), and toque de palmas (handclaps). Flamenco dancers use movement to interpret the music and lyrics to tell a story to the audience.
"The audience will enjoy the very passionate and rich experience of Flamenco song and dancing," said Jennifer Baer, director of The Lifetime Learning Center and community outreach.
Returning for the second Explorations in The ARTS season, host Colleen Maloney Roberts will lead the interviews and facilitate audience questions. This "informance" format includes a performance plus an interview that allows the audience the opportunity to learn more about the artists and their craft. Colleen spent several years working locally as a WCTI News Channel 12 anchor, reporting on stories from across the state and around the globe. She is now the City of New Bern's Public Information Officer. Roberts also manages New Bern's government access channel, City 3 TV.
Flamenco Vivo II single ticket prices are $20 for general public and $12 for students. Tickets can be purchased by calling 252-638-7351, or online at www.cravencc.edu/llc, Select "Registration/Tickets."
Funding for the Lifetime Learning Center is provided in part by corporate sponsors Terry and Teeny Tait of Raymond James Financial Services Inc. of New Bern.
– Craven Community College Foundation's Lifetime Learning Center provides adult learners with numerous and unique opportunities to learn about history, culture, arts and more, in an arena that includes and reaches beyond the classroom. In addition to the Explorations International Film and Lecture Series, the center provides:
– Statewide day-trips to museums for major exhibitions, Broadway Touring performances in Raleigh and Durham and the vast array of North Carolina's cultural resources, historic sites, and parks.
– Overnight trips to historic towns and landmarks.
– International trips.
To learn more about the many programs offered, visit the Craven Community College Web site at www.cravencc.edu/LLC
Public Radio East (PRE) is a media sponsor for Lifetime Learning Center events. PRE is a non-profit, non-commercial broadcasting facility licensed to the Board of Trustees of Craven Community College. Established in 1984 as WTEB-89.3 FM, PRE now broadcasts 24 hours on two complete program networks. The News & Ideas Network can be heard on WZNB-88.5 New Bern, WKNS-90.3 Kinston/Goldsboro, WBJD-91.5 Atlantic Beach, and in Greenville at 88.1. NPR News and Classical Music can be heard on WTEB-89.3. The mission of Public Radio East is to provide the residents of Eastern North Carolina with programming that inspires, challenges thought and provides opportunities for individual life-long educational experiences. PRE broadcasts nationally and regionally relevant in-depth news programming and a diversity of enriching musical experiences. The station provides connections to the rich cultural life of Eastern North Carolina.
To learn more about the diversity of programming offered on PRE, please visit us at www.publicradioeast.org or call 1-800-222-9832.
Photo Caption: Dancers of the Flamenco Vivo II dance company will perform in New Bern on Friday, March 6 at Craven Community College.
Submitted by: Deborah Kania on behalf of Jennifer Baer, Director of the Lifetime Learning Center and Community Outreach