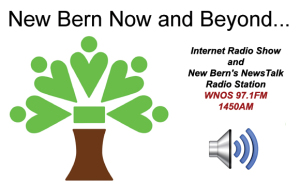 We're happy to announce that we are equipped to do radio interviews over the phone!
Special thanks to Mark Panichelli and Mike Afflerbach with New Bern's News Talk Radio Station, as they taught us how to conduct phone interviews with our audio equipment.
Until today, we were limited to trying to schedule interviews that took more travel time and carrying around the equipment than it did to actually do the interviews.
By learning how to conduct phone interviews, we will be able to do more "Community Audio Segments" for New Bern's NewsTalk Radio Station WNOS 97.1FM and 1450AM and New Bern Now and Beyond's Internet Radio Show.
This option is available for people who don't have the time to meet with us in between their busy schedules. We will still be doing face-to-face interviews.
If you didn't know about our radio interviews or Internet radio show, here's a little history: In 2012, Laura Johnson began volunteering for NBN to do "Community Segments" to be aired on New Bern's Talk Radio Station. In 2014, Laura and I created New Bern Now and Beyond's Internet Radio Show. The Show was put on hold in the Fall of last year and we re-launched on February 13th.
Tune into Living in New Bern Now and Beyond's Podcast Station to listen to some of the interviews and hear our bi-monthly Radio Show.
Give us a call at 252-638-6858 or send us an email to schedule an interview about an upcoming event or spread the word about your community group and/or non-profit.
Visit New Bern Now's Facebook page or sign up for the latest updates by submitting your email address in the right margin on New Bern Now's website.
Wendy Card