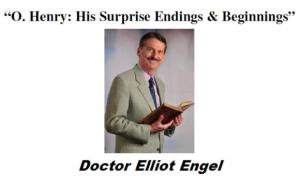 The spring meeting of the Friends of the New Bern-Craven County Public Library will be held on Sunday, April 12th at 2:30 pm in the library's Hayden H. Jones auditorium.
This free event is open to the public but tickets are required and will be available at the library.
Guest speaker, Dr. Elliot Engel, will discuss "O. Henry: His Surprise Endings and Beginnings". Few authors have suffered more undeserved neglect than North Carolina native O. Henry (William Sydney Porter). Using anecdote, analysis and humor, Dr. Engel brings to life this master of the short story and emphasizes the unique forces which shaped his universally appealing fiction.
Dr. Engel has lectured throughout the United States and on all continents, including Antarctica. He's taught at UCLA, Duke University, the University of North Carolina and North Carolina State University. He is a recipient of North Carolina's Adult Education Award and UCLA's Outstanding Teacher Award. Dr. Engel offers more than 100 different programs that he has carefully researched and written. It can take him six to eighteen months to prepare a new topic including biographical anecdotes, little known facts and humor.
Contact the library at 252-638-7800 for more information.
Submitted by: Audrey Williams, Friends of the New Bern-Craven County Public Library