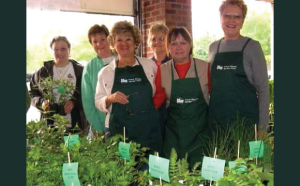 Every year, Trent Woods Garden Club makes available a great selection of high quality herbs ready to plant and enjoy. Grown especially for this event, a Beaufort County herb farm provides a large choice of potted herbs. Many are familiar but there are also new ones to discover for the kitchen, for fragrance and for home remedies.
Individual herbs are presented in 4″ biodegradable and compostable pots for $3.00 each. There is also a 16″ oval, terra-cotta colored plastic container pre-planted with 6 or 7 herbs for $16.00, a perfect hostess gift or for your home. All of the herbs are Certified Naturally Grown, an organically grown certification for smaller farms.
Orders are being accepted now through March 19th. They may be picked up on April 25th at the New Bern Farmer's Market from 8am – 2pm. There will be lots of herbs available for purchase on that day but for a more varied selection and to be sure you get the ones you want, contact Jane Ferree at 252-637-2348 or send an email and request an order form.
Proceeds from the Herb Sale help fund a scholarship for a Craven County High School Senior, plants and maintenance at the Trent Woods Blue Star Memorial Marker and other community projects.
Submitted by: Jane Ferree