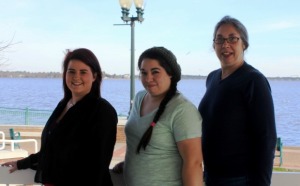 During my travels around town, I enjoyed meeting Tami Vandiford. She's been a 'virtual friend' on social media, but I finally got to meet her in person.
Tami's a proud owner of not one, but two family owned businesses in New Bern.
She founded A Family Matters Cleaning Service 15 years ago. Their motto, "Our Family Looks forward to meeting Your Family". With the help from her daughter, Yvette Martinez, and longtime employee, Jami Hewitt; they clean both homes and businesses six days a week.
Tami still has loyal clients who have been with her from the beginning! Besides regular cleaning services; they help people who are moving in and/or out of their homes. With the weather warming up, it's time to schedule a "Spring Cleaning" appointment!
She offers gift certificates for baby showers, bridal showers, weddings, etc. What a great gift idea! Find out about their monthly discounts and more by visiting A Family Matters Cleaning Services on Facebook or call Tami Vandiford at 252-259-7827.
Five years ago, Tami identified a real need in our community and started TLC Pet Sitting Service with her daughter, Taylor Vandiford.
Being a dog owner for most of my life, I know how difficult it is when I have to board my dog. No matter if I was away on vacation or for business, I'm constantly thinking about how he is. Until I met Tami, I never considered leaving Boo with a Pet Sitter. My first concern was if the sitter spent quality time with him and was reliable; not to mention that I didn't want a stranger coming into my house. Although I haven't used Tami's services, I plan to in the future.
Leave your worries behind and call TLC Pet Sitting Services. As a pet lover, Tami doesn't just stop by and "check on" your dog or cat. She believes it's important to spend quality time with each of her furry clients. She even provides overnight care at your home if needed. Tami is also qualified to administer medications along with insulin injections.
While you're away she also takes care of your trash/recycle receptacles, mail, newspaper, waters your plants, etc.
I don't know where she finds the time to successfully operate two businesses. When I asked her, she credited her daughters and employee for all of their hard work.
Tami and her team work around the clock to meet their clients' needs!
They're trustworthy, they respect their customers' privacy, and they have references. One of my friend's has been a long time client and she's very satisfied with A Family Matters Cleaning Service.
Find out more information by visiting TLC Pet Sitting Services Facebook page or call Tami at 252-259-7827.
On another note, Tami's daughter, Nicole Vandiford, is a photographer and graphic designer. It's obvious that Tami taught her daughters well as she's raised strong and successful women! Check out Nicole's website or call her at 252-259-1483 for more information.
Special thanks to Tami Vandiford for taking the time to tell us more about your businesses.
Wendy Card