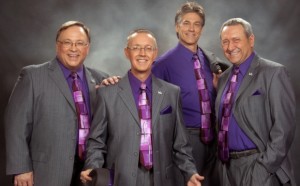 When was the last time you were to Times Square, Nob Hill, Bourbon Street, saw a steamboat on the Mississippi or saw the Chicago River dyed green on St. Patty's Day?  Can't remember?  Well, hop aboard as the Southern Gentlemen Barbershop Chorus takes you on the Great American Road Trip. The Gentlemen will be visiting all of these great cities through the magic of four-part harmony.
This ever popular annual show will take place in the Performing Arts Center of Grover C. Fields Middle School on Saturday, April 25th at 7:30 p.m.
The featured award winning guest quartet, back by popular demand, is "Let's Sing".  Combining over 100 years of close harmony singing, this talented group will keep your toes tapping and your hands clapping with their wide array of spirited numbers.
Showcasing the Chorus' encouragement of Youth in Harmony, quartets from local high schools will perform four-part harmony in their renditions of several popular tunes.
Tickets are $16.00 in advance and $18.00 at the door.  Tickets are available at the Bank of the Arts, Fuller Music and from the Flagman at The Farmers Market. Credit card orders can be placed by calling 252-288-9132. Proceeds help support Merci Clinic, The Coastal Women's Shelter and the Navy-Marine Relief Society.
Submitted by: Bill Rust, Southern Gentlemen Barbershop Chorus