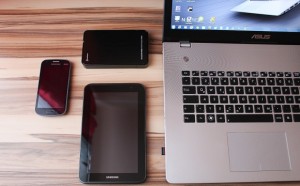 Mobile responsive design is the term given to delivering your content to website viewers in a format easily viewable on any device they are using. In other words, can you see your website clearly on your phone or tablet?
Responsive design is different than having a mobile version of your site. It simply takes into account the device type used and displays the same website in a different configuration. This eliminates the time and effort of creating and maintaining two or more completely different sites.
Why does all of this matter?
In April of this year, Google changed their search formulas to give higher ranking to those websites that it deems "Mobile Friendly". For instance, if you and your business competitor are tied in Google's search results, the tie breaker would go to your competitor if that site better meets the mobile friendly criteria.
Keep this in mind – "78% of consumers who search for a local business on their smartphone end up making a purchase" (Google).
Don't ignore your local, mobile viewing customers. Take time today and make sure your site is up to date and responsive.
Use this link to give your website the mobile friendly test. https://www.google.com/webmasters/tools/mobile-friendly/
By Contributing Author, Jeremy LeRay, Owner of New Bern Web Design