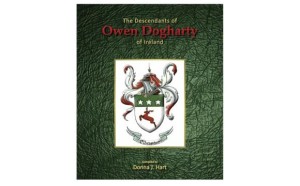 Donna Hart of Illinois will be in North Carolina to deliver pre-ordered copies of her recently published book documenting the history of the descendants of Owen Dogharty from the north of Ireland. Many live in Craven County, generally spelling their last name as Daugherty, while many others live in Lenoir County, generally spelling their last name as Daughety.
Others left this area and migrated to the west as early as the 1790s. Donna has spent countless hours during the past ten years in libraries, courthouses, and archives in several states and in Ireland doing the research necessary to trace the descendants of one of her own ancestors.
She will be at the Cove City Public Library in Craven County on July 17 from 2 – 6 p.m. and in the fellowship hall at the British Chapel OFWB Church in the Sand Hill community of Lenoir County on July 18 from 1 – 5 p.m.
In addition to the pre-ordered copies which she will be delivering, Donna will also have more copies with her to sell while she is here. Come by to see her in the library or at the church! This will be a great opportunity for you to acquire your own copy of the 1200 page volume, The Descendants of Owen Dogharty of the north of Ireland, Complied by Donna J. Hart, without incurring the extra expense of having it shipped to you later.
For more information please visit HartHeaded.com.
By Contributing Author, David French, Family History Society of Eastern North Carolina