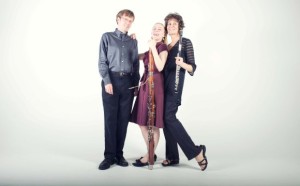 You are invited to experience beautiful and compelling chamber music in New Bern's First Presbyterian Church on Friday, September 25 at 7:30 PM.  Musicians from Asheville-based Pan Harmonia, flutist Kate Steinbeck, bassoonist Rosalind Buda and pianist Ivan Seng, perform treasured sonatas from the chamber music repertoire including the "Sonata for Bassoon and Piano" by French master Camille St. Saëns, the "Sonata for Flute and Piano" (1924), a sublime yet seldom heard work by Belgian neo-Romantic Joseph Jongen, and "Riffs," a jazz-inspired trio by North Carolina composer and bassoonist Michael Burns.  Admission to this concert is free with suggested donations of $15-20 general and $5 students, but no one will be turned away for lack of funds.
Now in its 16th season, Pan Harmonia is an artist-directed collective based in Asheville, which brings engaging and interactive performances to audiences of all ages in diverse settings–ranging from traditional concert halls to homeless shelters and prisons. Created by Kate Steinbeck, Pan Harmonia is passionate about bringing meaningful experiences to the public through music. Acclaimed for its imaginative programming and stellar artistry, its work has received support from the North Carolina Arts Council, The Mary Duke Biddle Foundation and the National Endowment for the Arts.
Laura MacDowell of Classical Voice of North Carolina has described Pan Harmonia performances as "polished and synergetic [with] requisite intensity and finesse. The balance between them was always right, no matter what the dynamic level. Their timing was beautifully coordinated, and their interpretive vision of each work seemed spot on. These marvelous professionals demonstrate the highest levels of musicianship!"
For more information, visit: PanHarmonia.org or call 828-254-7123.
Submitted by: Karen Dodd