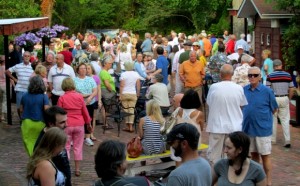 Community Artist Will is pleased to announce the following artists and locations participating in Artcrawl, Friday, October 9th from 5 – 8pm:
Jay Manning and Jon Derby will be in the Greater Good Gallery at 128 Craven Street with Jon's photographs and Jay's children's book, 'Beebop'. Jay's wife, Leslie Tall Manning will be behind the gallery in the Isaac Taylor Garden with her women's fiction novel, 'GAGA'. Also shown is the work of Lisa Bisbee Lentz, Carol Jones, and Lee Hood.
During the crawl, look for the hand carved work of 82 year old Otto Florshutz of Core Sound Decoys.
At Next Chapter Books and Art, Elizabeth Conley will be leading a watercolor workshop, where participants will be able to paint and make a gift bag. No experience is necessary; sign up is inside the store.
Lynne Baron Goodwin will be exhibiting her photographs in the BTM Beer Garden on Middle Street.
Painters Susan Sirkin, photographer Scott Sirkin, will be showing their work along with mixed media and watercolor artist Brenda Gear inside Trent River Realty at 333 Middle Street.
Artisan Square, behind both the Cow Café and the CAW Center for the Arts (Middle and Broad Streets) will be an exciting place to be, featuring a drum circle hosted by The Red Shoe Gallery and Boat Bumz. Along with the vibrant rhythms will be painter Sandy Bruno, photographer Nicholas Maloney, and artisanal beads jeweler Elisa Schulman. Stroll the lot to the pottery studio of Michaele Rose Watson and enjoy her large works of clay.
To wrap the crawl up, or an equally wonderful place to start, is the CAW Center for the Arts, featuring both a gallery with several local artists as well as working artist studios. Inside, you will find paintings by Eileen Wroe, Chris Wagner, Sandy Bruno, Sara Arje; photographs by Alan Welch, several jewelers and hand crafters, and several smiles to mingle with.
Submitted by: Community Artist Will