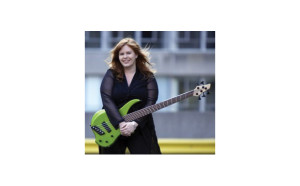 October 23 – Trent River Coffee Company, New Bern
October 24 – Clawson's Restaurant, Beaufort
Doors open at 6:30pm and performances start at 7:30pm
Presented by the Down East FolkArts Society
All the way from Ontario, Canada, Suzie Vinnick brings us a gorgeous voice. Once being described as being "spun of gold". She can belt out the blues or croon a ballad with the greatest of ease and maintain a powerful presence. Suzie will capture your attention as  she performs the blues, folk, country and pop like no other.,
"Me 'N Mabel" is Ms Vinnick's latest full-length solo acoustic blues album. Her warm engaging voice and her fine acoustic guitar will hold you captive. Full of amazing of amazing singing, great material and wonderful acoustic playing. Suzie has performed across Canada and the US; and for the Canadian Peacekeepers in Bosnia and the Persian Gulf.
Enjoy an evening with Suzie Vinnick, her fabulous voice, wonderful musical arrangements and great acoustic music!
Tickets available via PayPal at DownEastFolkAtrs.org, or by calling/texting 252-646-4657 for reservations. In New Bern, tickets will be at Trent River Coffee Company or at Bank of the Arts.
Submitted by: Evelyn Richards, PR, DownEast FolkArts Society