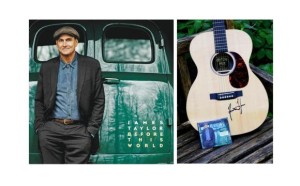 There's no one who says "Carolina On My Mind" better than James Taylor. This iconic superstar and Tar Heel native grew up in Chapel Hill but has historic roots in new Ben. The Isaac Taylor House on Craven Street downtown belonged to his great grandfather and bears his name.
Scores of fans grew up with the smooth, lilting sounds of James Taylor's music and quite a few have tried to emulate those familiar tunes. So if you're looking for inspiration or simply nostalgic, you'll want to consider owning one of STRING FLING'S most coveted items: a mint condition, steel stringed acoustic guitar signed by none other than James Taylor himself. A good man and his great music are hard to beat. This fabulous package includes Taylor's latest CD which some say is one of his best. You can try your hand at these latest songs and see if the magic transfers to you. Bid online here: 32Auctions.com/StringFling.
About the Guitar: C.F. Martin & Company is a  US guitar manufacturer established in 1833 by Christian Frederick Martin. Martin is highly regarded for its steel-string guitars and is a leading manufacturer of flattop acoustics.
The Martin 000X1AE acoustic-electric guitar features the 000 platform and a smaller body design than the traditional Dreadnought, producing full, robust sound.  Pairing the solid Sitka spruce top with mahogany-grained high pressure laminate (HPL) back and sides, the 000X1AE belts out rich clarity and plenty of projection.  Equipped with Fishman electronics, this guitar has the look and sound of a highly collectible Martin.  The list price on this guitar is $749.00.
James Vernon Taylor was born on March 12, 1948, in Boston, Massachusetts. At the age of 3, he moved with his family to North Carolina, where he lived for the rest of his childhood (though his well-off family usually spent summers on Martha's Vineyard, off the coast of Massachusetts). Taylor's mother had studied singing; Taylor, like all of her children, was also musically inclined.  Initially a cellist, he began to play the guitar when he was around 12 years old.
Taylor's debut album, James Taylor, was well-liked by critics, but didn't sell well.   Taylor's career skyrocketed with the success of his second album, Sweet Baby James (1970), which contains what may be Taylor's best-known song, the gentle "Fire and Rain." Both the album and the song reached No. 3 in their respective chart categories. On his next album, Mud Slide Slim and the Blue Horizon, Taylor had a No. 1 hit with his cover of "You've Got a Friend," written by Carole King. He also won a Grammy for his performance of that song.
Following a few moderately successful releases, James Taylor's Greatest Hits came out in 1976. The album was a success from the start, and has now received diamond certification (meaning it has sold more than 10 million copies). In 1977, Taylor won a second Grammy for his cover of "Handy Man." It was from the first album he recorded for Columbia, the multi-platinum selling JT.
Over the next few decades, Taylor's musical output included studio albums, live recordings and even work on a Broadway musical. Hourglass (1997) won the Grammy for Best Pop Album (Taylor won Gramys in 2001 and 2003 as well). Touring has also enhanced Taylor's popularity, as well as his album sales; almost all of his releases have now attained either gold or platinum status.
In 2000, Taylor was inducted into both the Rock and Roll Hall of Fame and the Songwriters Hall of Fame. He received a National Medal of the Arts in 2011 and was designated a Chevalier of the Order of Arts and Letters by the French government in 2012. Perhaps most important, Taylor continues to be esteemed as a songwriter and performer whose work speaks to people's inner emotional lives.
Submitted by: Tom Payne, New Bern String Fling Gala and Auction