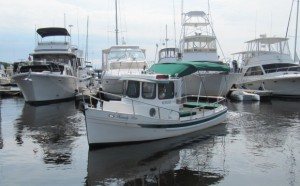 October 10-11 
New Bern is a boater's paradise with access to the ocean and the beautiful Neuse and Trent Rivers. Eastern NC attracts boaters from all over the world and with this huge boating community in mind, MUMFEST is featuring a in and out of water Boat Show hosted by the New Bern Grand Marina Yacht Club.
Festival goers will be able to climb aboard big boats, little boats, sail boats, power boats, fishing boats…in other words if the craft floats you will most likely see it at MUMFEST! Vendors will be on hand with all the necessary and unnecessary (but you want it anyway) accessories boaters must have and, with the holiday season not far away, this is a great opportunity to do some shopping.
Boats will be on display at five locations with over 100 spaces in historic downtown New Bern.
MUMFEST is a combination of fantasy, fun and entertainment that has attracted visitors to the beautiful and historic downtown and waterfront for 35 years. MUMFEST was recognized four times in the past ten years by the Southeast Tourism Society as a Top 20 October Event in the Southeastern United States and is consistently voted the Best Festival in the annual Sun Journal Readers Choice Awards.
New Bern's beautiful historic downtown has become a shopping and dining destination with its many art galleries, privately owned shops, restaurants and waterfront parks. Make your reservations early and come spend the weekend with us!
MUMFEST weekend in New Bern, NC on October 10-11, 2015attracts festival goers from across the southeast to experience this award winning festival located in the beautiful and historic downtown along the waterfront. Festival goers can spend a little or spend a lot with over 300 commercial and nonprofit exhibitors to choose from including pottery, crafts, art and a great variety of food booths to satisfy everyone's appetite.
MUMFEST is a City sponsored family friendly event, produced by Swiss Bear Downtown Development Corporation. The beautifully restored downtown and riverfront, unique shops, art galleries, restaurants and historic homes make New Bern a destination for many travelers. To learn more about MUMFEST and Swiss Bear Downtown Development Corporation, visit: DowntownNewBern.com or MUMFEST.com
Submitted by: Nancy Hawley, Public Relations and Marketing for MUMFEST