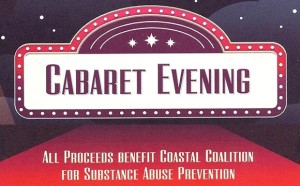 On Friday evening, October 23, at 6 p.m., An Evening at the Cabaret featuring Benjy Templeton, singer, pianist and entertainer, will be held at the North Carolina History Center, 529 South Front Street in downtown New Bern. This special evening of dining and cabaret entertainment is sponsored by the Coastal Coalition for Substance Abuse Prevention (CCSAP) with dinner catered by the Flame.
Listen to our interview with Philisa Fowler, Project Director to learn more about this exciting event. It's airing on New Bern News Talk Radio WNOS 107.5FM and 1450 and you can also listen to it here:

Benjy Templeton's 35 year career as a singer, pianist and entertainer has been spent performing at numerous concerts and venues throughout the country to include metro Atlanta, Georgia; Fort Lauderdale, Florida; Aspen, Colorado; New York City; Hilton Head and Myrtle Beach, South Carolina; and Wilmington, North Carolina.
His genre of music includes what is referred to as The American Songbook with a heavy emphasis on Broadway, featuring the music by the Gershwin's, Porter, Rodgers and Hammerstein, Sondheim, Berlin and a mix of Peter Allen, Billy Joel, Elton John, Bette Midler as well as the classical piano music of Chopin, Beethoven, Scott Joplin and other famous musicians and composers.
So, put down the knitting, the book and the broom; life is a cabaret, old chum, so come to the cabaret. Your table's waiting!
Tickets for this unique, outstanding evening are $60 per person and can be purchased at Mitchell Hardware, 215 Craven Street; at the CCSAP office, 601 Broad Street, and on-line at http://ccsap.ticketleap.com/cabaret-evening/.
Sponsored by CCSAP, a 501(c)(3) nonprofit established in 2010, proceeds from this event will be used to support CCSAP's mission to reduce underage drinking, promote responsible drinking for those of legal age who choose to drink and reduce the misuse and abuse of prescription drugs in Carteret, Craven, Jones, Onslow and Pamlico Counties in Eastern North Carolina. CCSAP was an outgrowth of the 2007 United Way of Coastal Carolina's Community Impact Initiative. For more information, go to www.ccsap.org.
The CCSAP office is located in the United Way Building, 601 Broad Street in New Bern. For more information on An Evening at the Cabaret, or CCSAP, go to www.ccsap.org or call 252-649-1615.
Submitted by: Shirin Scotten, Coastal Coalition for Substance Abuse Prevention