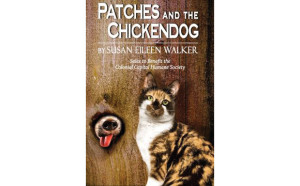 Susan Eileen Walker's latest work of fiction is for the dogs and cats. Proceeds from sales of Patches and the Chickendog will be donated to the Colonial Capital Humane Society.
Patches and the Chickendog is a collection of five stories for children ages four to eight, about Patches, the bravest cat in the world, and Benny, the Bagel Hound, who is afraid of his own shadow. The stories follow this pair's growing friendship from their first meeting to Patches joining the family.
"I wrote these stories several years ago for an children's website. When the rights returned to me, I put them on a shelf until Lisa Lee, a member of the CCHS board of directors, suggested I write a book to raise money for the shelter. I knew these stories would be perfect," Ms. Walker said.
Patches and Chickendog is available on amazon.com in paperback or e-book form. "All royalties from online sales go to the shelter as well. My hope is the book goes viral and earns enough money that CCHS can buy a larger property."
Autographed copies of Patches and the Chickendog can be obtained from Ms. Walker during the Saturday New Bern Farmer's Market between now and November 21st. She is also planning a book-signing at Bear Towne Java during ArtCrawl on November 13th.
In addition to writing, Ms. Walker knits hats for newborns and cancer patients, and volunteers with the New Bern Fire-Rescue CERT team.
Submitted by: Susan Eileen Walker