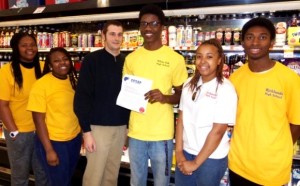 Coastal Coalition for Substance Abuse Prevention (CCSAP) is a community-based substance abuse prevention agency in Carteret, Craven, Jones, Onslow, and Pamlico counties. Coalition volunteers come from community leadership, parents, youth, teachers, religious and fraternal organizations, healthcare and business professionals, law enforcement, the media, and others forming task forces working at the local level. CCSAP is funded through a Drug-Free Communities grant from the Office of National Drug Control Policy. This matching grant is awarded based on community participation, youth survey outcomes, and environmental and policy changes making prevention efforts into lifestyle changes to reduce substance abuse among youth.
CCSAP began in 2007 following a community assessment performed by the United Way of Coastal Carolina when substance abuse prevention was identified as the most significant need in Carteret, Craven, Jones, Onslow, and Pamlico Counties. Since then, CCSAP has worked to raise awareness about locking up prescriptions in the home and proper disposal of unused medicines safely as soon as they are finished with it. To facilitate proper disposal, CCSAP has helped secure permanent prescription drop boxes in many law enforcement buildings and a drug incinerator for Onslow County.
Also, CCSAP is working to limit use and access to alcohol by youth under age 21. Parents are educated about securing alcohol in the home and about social host laws. Youth learn about the effects of alcohol use in their developing minds and consequences of use. Annual mystery shopping of retail establishments to ensure ID law compliance to limit access to alcohol in stores. CCSAP also works with youth for peer-advocacy and leadership skills. The youth branch of CCSAP calls themselves SAPHE for Substance Abuse Prevention Helps Everyone. SAPHE youth receive training and use media to encourage their friends to say no to underage drinking, and to talk with adults about the dangers of drinks with high alcoholic content.
If you would like more information on the work CCSAP is doing, or to join a local task force, please visit www.ccsap.org, or call CCSAP at (252) 649-1615.
Submitted by: Shirin Scotten, Media Coordinator, Coastal Coalition for Substance