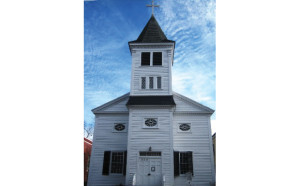 The Old Saint Paul Preservation Guild invites you to attend The All Saints Musical Festival beginning the 175th Anniversary Celebration of Old Saint Paul Catholic Church-CLXXVannis.
Come join us on Sunday, November 15th at 4 pm, at Saint Paul Catholic Church 3005 Country Club Road with neighbors praying with neighbors and praising God through song!
The concert is free of charge. A "Love offering" will be accepted for the continued preservation of this historical landmark.
Musical Presentations by: Centenary Methodist Church, directed by Paul Saik;  Christ Episcopal Church, directed by David Leahey;  Clinton Chapel, directed by Carole Downing;  First Baptist Church, directed by Barry Templeton; First Presbyterian Church, directed by Pat Rowlett and Saint Paul Catholic Church and School Choirs, directed by Megan Johnson.
You have an opportunity to be a sponsor for this event. There are 3 levels of sponsorship, Bronze for $ 100, Silver $250 or Gold $500. Call Shirley Perun 252-670-8129 to take advantage of this opportunity to be recognized as a sponsor.
Bring friends and join us for an enjoyable ecumenical Sunday afternoon. Ample free parking!
For more information please call 252-638-1984.
Submitted by: Nancy Stewart