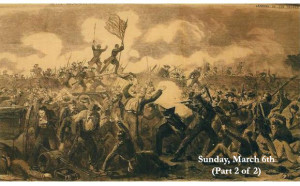 Battle of Batchelder's Creek – Sunday, March 6th
The Battle of Batchelder's (Batchelor's) Creek was fought about 8 miles west of New Bern along Old Highway 70 on February 1, 1864.  It was a part of General Robert Pickett's attempt retake New Berne from the Federals after two years of Federal occupation.  General Robert E. Lee had declared that "the Time was Ripe" for such an attack on New Berne and he released part of his Army of Northern Virginia to North Carolina for the attack.  Lee realized that such an attack had an excellent chance of victory which would not only end Federal occupation, but it would eliminate much of the Federal attacks throughout eastern North Carolina. In addition, it would provide the Confederate with numerous supplies which the Federals had stored in New Berne, which were so desperately needed by the Confederate forces in Virginia.  A victory over the Federal forces would also have a positive effect on the local citizens, as well as the rest of the state, and free up the railroads for use by Confederate forces.
Sunday's Speakers and Events
10:15am – Battle of Batchelder's Creek – Lee Sherrill, Jr.
11:00am – Battle of Wises Forks – Wade Sokolosky
Battle of Batchelder's Creek Scenario (2:30pm)
Confederates deploy skirmishers along Neuse Road towards New Berne.
Confederate skirmishers come in contact with the first Federal pickets.
Federal pickets run, without firing a single shot.
Confederate skirmishers come in contact with second and third set of Federal pickets. Shots are fired and Federal pickets are captured.
Federal forces send out scouts on horseback to check out sounds of gunshots, firing along bridge.
Federal scouts return to camp with data on Confederate forces.
Federal forces are sent to the bridge to stop the Confederates.
Federal forces began to take up planks from bridge over creek.
Confederate forces arrive.
Heavy Federal firing begins against the Confederates.
Confederate forces fire back at Federals.
Confederate forces begin to attempt to rebuild the bridge.
Confederate forces bring up four Napoleon cannon and begin firing on Federals.
Heavy fire from both Confederate and Federal forces at the bridge.
Confederates begin to flank the Federal forces, go around to the side of the bridge and cut down trees, allowing the trees to fall across the creek.
Confederates begin to go across the creek using the trees as bridges to the other side.
Heavy fighting ensues, gun fire on both sides.
Federals begin to retreat.
Colonel Claassen orders camp to be destroyed.
Camp is destroyed and items in it are burned,
Federal flag is taken down.
Federal forces retreat.
Confederate forces pursue Federal forces.
Bugle is played. End of battle.
Things to see while at the reenactment
Be sure to visit the suttlers who sell period clothing, games, books, and other items of the Civil War.
Be sure to visit the Confederate camp off to the right of the suttlers where you can see soldiers in authentic clothing living as the soldiers did in 1862.
You also want to visit the Federal camp which is located just behind the suttlers, where they portray Federal soldiers of the period. Both groups will be cooking and living as soldiers did in 1862.
Submitted by: Jim White, Battles of New Berne Reenactment