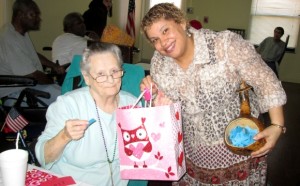 New Bern Elks Lodge #764 recent award of a $2,000 Beacon Grant, from the Community Investment Program of the Elks National Foundation provides funding to work with New Bern House staff to develop and organize events and activities throughout the year to enhance the lives of the 80+ residents of the New Bern House Assisted Living and Memory Care facility located on Brunswick Drive.
As many residents have no family connections, interaction or communication with non-residents, the grant provides funding for Elks members to develop craft shows, dances and holiday parties on and off-site. Members are also committed to building corn hole toss boards for outdoor events and plan to work with a local garden club to help residents plant a small vegetable garden on site.
This project was initiated by Elk member, June Dunleavy following a visit last year to the facility. Realizing some of the residents lacked basic necessities, the Elks membership embraced the project and now collect and deliver clothing, toiletry items, craft supplies, books and other items to the facility.
Last year, Elks Lodge and Tryon Civitan members organized a Christmas party and donated 78 Christmas gifts to residents, visited and helped the staff  organize  several special events and the Elks Committee of 100 provided funds used to refurbish the facility's chapel and provide a warn atmosphere for weekly church services and a place for contemplation.
The Elks Lodge's involvement has led to the Home residents increased awareness of their surroundings, self-pride and active participation in the various activities. The success of this effort will make this project available for an on-going annual Beacon Grant.
The Benevolent and Protective Order of Elks (known simply as the Elks) is an American fraternal order and social club founded in 1868 with one million members. The Elks National Foundation, established in 1928, is the charitable arm of the BPOE with an endowment valued at more than $400 million. To date it has contributed $253.5 million toward Elk's charitable projects nation-wide.
Lodge #764 has had a strong presence in this New Bern since the late 1800's. In 1908, at the peak of the city's early twentieth-century industrial and commercial boom, Elk community leaders funded construction of the five story Elks Temple at the corner of Middle and Pollock Streets. Downtown's decline led to the Lodge members' decision in the late 1980's to sell the building and construct a new facility on Pinetree Drive. It's strong community presence and involvement in charitable community projects continues with a membership of 350.
For information on how to help or donate to the New Bern House project, contact June Donleavy at 252- 288-5947. For membership information go to Elks.org or call 252-638-8116.
Submitted by: Susan Moffat-Thomas on behalf of the New Bern Elks Lodge #764