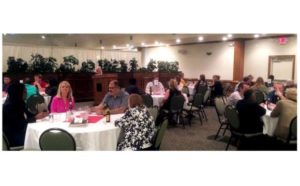 The Entrepreneur Center of Craven County invites you to the June Entrepreneur Series Event on Wednesday, June 22, 2016 from 5:30 p.m. to 7:00 p.m. at the New Bern Area Chamber of Commerce, 316 South Front Street, in New Bern.  Register at TECCC.org.
Speed Networking is back by popular demand.  Darlene Brown will facilitate the Speed Networking session in a casual round-table setting. Participants will take turns delivering a two-minute "elevator speech" on their business to others at the table before moving on to another table of new participants. Several rounds ensure you will network with a wide variety of people within the hour and get the opportunity to practice talking about your business.
The Speed Networking activity will be followed by a group discussion on what you need for your business to succeed! Bring suggestions to share!
Enjoy complimentary beverages and appetizers thanks to A Dog's Dream.
To Register, visit TECCC.org.
The Entrepreneur Center of Craven County – TEC3 – is an ongoing collaboration between Craven County, the City of New Bern, Swiss Bear Downtown Development Corporation, the Craven 100 Alliance, Craven Community College, and the Small Business Center to create, encourage and facilitate an entrepreneurial culture by assisting early-stage and expanding companies to grow their businesses through information, education, and networking resources.   TEC3 in currently in the process of securing funding for an entrepreneurial development space, The Cube, at 509 Broad Street.
Submitted by: Heather Noto, Brink Strategy